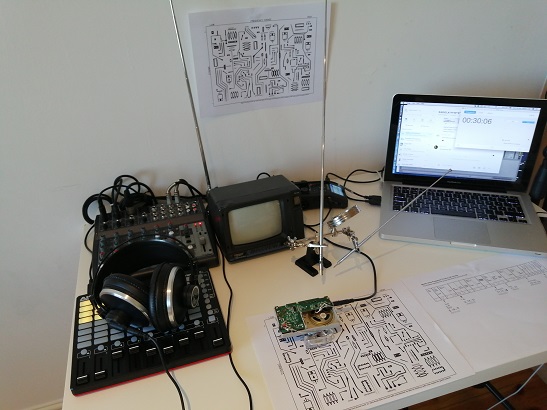 Listening's Urgency on Radia.fm
For the second per­for­mance in the cour­se of his pro­ject "Lis­ten­in­g's Urgen­cy", Har­di Kur­da asked musi­ci­ans, artists and wri­ters from dif­fe­rent parts of the world to com­ment on the mea­ning of ille­ga­li­ty and noi­se: Do we over­step the bor­ders of lega­li­ty by lis­tening? What does ille­ga­li­ty mean? Can ille­ga­li­ty make noi­se? Is noi­se illegal?
The recor­ded voices and nar­ra­ti­ons were the basis for a one hour live radio per­for­mance with a six-mem­ber radio ensem­ble which came tog­e­ther on Radio Corax on April 26, 2020. For the radio art net­work Radia.fm Kur­da made an edi­ted ver­si­on of the live radio per­for­mance which will be aired this week in twen­ty sta­ti­ons throughout Euro­pe and beyond:
Radia Show 790: Listening's Urgen­cy by Har­di Kur­da (Radio Corax)
Lis­ten­in­g's Urgen­cy – live radio per­for­mance by Har­di Kur­da, with: And­re Damiao, live from São Pau­lo; Maxi­mi­li­an Glass, live from Leip­zig; Kamil Korol­c­zuk, live from Ber­lin; Har­di Kur­da, live from Lon­don; Soheil Sohei­li, live from Tehe­ran; Ralf Wendt, live from Hal­le; and with the voices of: I‑ID from Tehe­ran, Kani Kamil from Lon­don, Peshraw Moham­med from Ber­lin, and Niga Salam from Slemani.