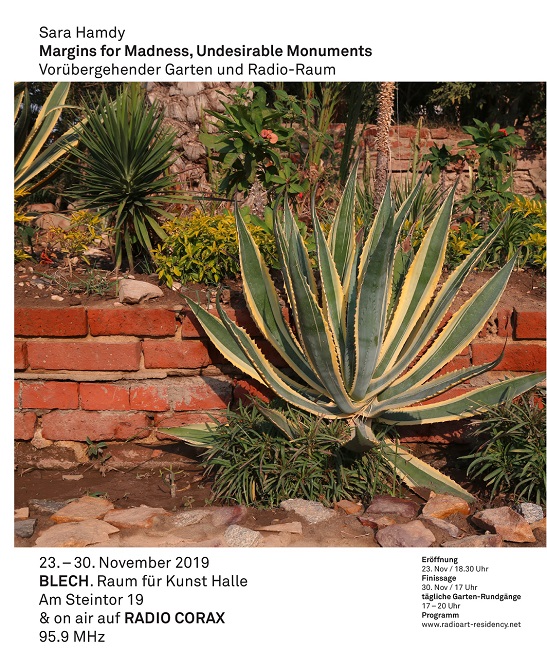 Opening: Margins for Madness, Undesirable Monuments
From Novem­ber 23rd to Novem­ber 30th, Sara Ham­dy turns the gal­le­ry Blech. Raum für Kunst Hal­le into a gar­den and radio space.
The instal­la­ti­on Mar­gins for Mad­ness, Unde­s­i­ra­ble Monu­ments is part of Hamdy's ongo­ing rese­arch loo­king at the ways in which mad­ness and unre­a­son are social­ly con­struc­ted. How is mad­ness embo­di­ed and embed­ded in public space? For the artist, the simul­ta­ne­ous seclu­si­on and exte­rio­ri­ty of urban gar­dens are a meta­phor for what we call madness.
On Satur­day, Novem­ber 23rd, at 6.30 pm, the space will be ope­ned with a live radio per­fora­mance. Plant lovers are invi­ted to bring their favou­rite, beau­ti­ful, sin­gu­lar green flat­ma­tes and let them be part of the instal­led garden.
Margins for Madness, Undesirable Monuments — Temporary Garden and Radio Space
Ope­ning Satur­day, Novem­ber 23rd
6.30 pm at Blech. Raum für Kunst Hal­le / Am Stein­tor 19
& 7 pm on Radio CORAX 95.9
Radio Per­for­mance Sunday, Novem­ber 24th / 8 pm
at Blech. Raum für Kunst Hal­le / Am Stein­tor 19 & on Radio CORAX 95.9
Radio Per­for­mance Fri­day, Novem­ber 29th / 4 pm
at Blech. Raum für Kunst Hal­le / Am Stein­tor 19 & on Radio CORAX 95.9
Finis­sa­ge / Long Night of Gal­le­ries Satur­day, Novem­ber 30th
5 – 10 pm at Blech. Raum für Kunst Hal­le / Am Stein­tor 19
& 6 pm on Radio CORAX 95.9
Open for visi­tors and plant contributions:
until Novem­ber 22nd, dai­ly 3 pm – 5 pm
from Novem­ber 23rd – 30th, dai­ly 5 pm – 8 pm
Gra­phic: Fran­zis­ka Stübgen
Pho­to: Cac­tus, Beh­man Hos­pi­tal-Hel­wan; Credit: Wafaa Samir